Home News
Budget-Friendly Upgrades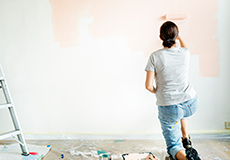 As the real estate market slows, it can be useful for both homebuyers and sellers to learn which house upgrades are most worth it. By making budget-friendly home upgrades, sellers can stand out from other sellers on the market. Buyers have the option to choose a house that is lower in cost in return for making any necessary upgrades.

These are a few of the most budget-friendly upgrades that also provide a nice return on your investment:

Mini bathroom makeover: Many real estate professionals agree that kitchens and bathrooms sell houses. You don't have to completely demolish and upgrade your bathroom to make a difference in value. Minor improvements like changing out the vanity, refreshing the paint, and upgrading the fixtures can make a big difference.

Increase the kitchen storage space: The kitchen is where most families spend the majority of their day. One of the biggest complaints about a potential kitchen is the lack of storage space. Even if you do not have the budget available to add counter or cupboard space, you can increase the storage of what you already have. You can install cupboard rollouts or permanent organizers in your existing cupboards.

Fresh paint: A fresh coat of paint can do wonders for a house. Fresh paint not only covers normal wear and tear but also allows you to change up the color palettes of the house.

Focus on curb appeal: The exterior is the first thing that buyers notice about your house. Pay extra attention to the landscaping on your front lawn, add a brick border to your walkway, add a new coat of paint to the exterior, and upgrade your outdoor lights for an instant boost in curb appeal.

Minor upgrades can increase the value of your home. When planning your upgrades, always consider what the project will cost versus the increase in value that it will produce.
original post: Belinda Arender